How do smart thermostats work in Fargo?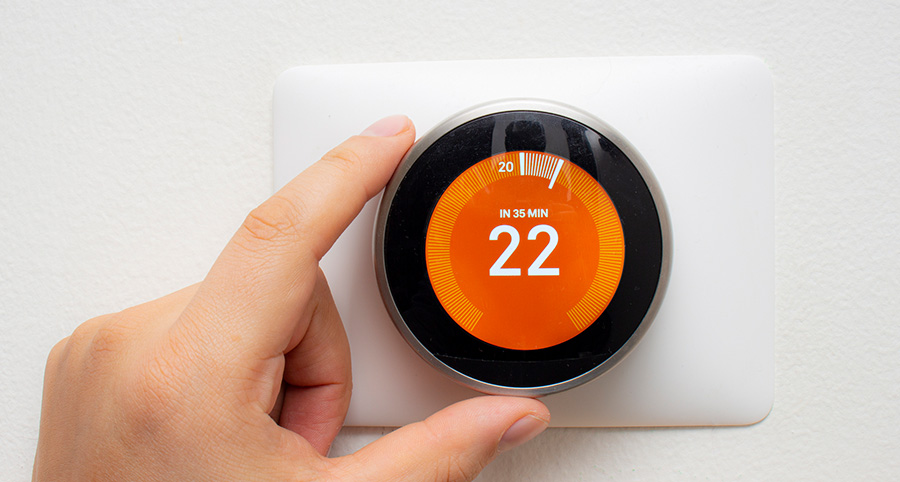 Consider having the ability to control your home's temperature by saying a command or by utilizing an app on your cell phone. Now, take it a step further and think about having a device that is able to actually detect your preferences and adjust automatically. As you may soon realize, smart thermostats are beneficial advancements in technology that can bring more convenience, energy reduction, and even safety to your household. Take a moment to see how they work and what they are able to do for your property.
How do smart thermostats compare to traditional models?
It goes without saying that smart thermostats are a thrilling piece of home automation equipment but they're comparable to previous models in a couple of ways. Namely, they are hardwired straight to your heating and cooling system. You are also able to manually adjust the comfort settings by engaging with the hardware connected to your wall. But that's pretty much where the similarities end.
Fargo smart thermostats bridge to your home's Wi-Fi
You may sum up the difference between traditional thermostats and smart models in two words - internet connection. This allows a whole range of new features such as smartphone access and control. Essentially, you can adjust your heating and cooling levels from anywhere. Did you not remember to turn down the heat when leaving on a family excursion? That's OK. All you need to do is go to the convenient Vivint app on your mobile device and quickly change it. There are many other actions you can take with the app, such as:
Shift between HVAC modes
Adjust your system to a certain mode like vacation, home, or sleep
Turn your fan on or off
Obtain notifications whenever settings are manually or automatically altered
Alter the temperature by simply saying a command
Your internet connection gives you another great bonus as you may pair your device to a Google or Amazon smart speaker. If you want to stay comfortable on a frigid mid-winter night and you don't want to leave your cozy place on the sofa, just speak a directive like "Alexa, turn the heat up two degrees".
Vivint Smart Thermostat actually adjusts on its own
The Vivint Smart Thermostat can take convenience to a higher level by turning to its built-in Smart Assistant. When integrated into your smart home, the thermostat can utilize various sensors and other functionality like geolocation to discern if you're in the house or not. Additionally, this intelligent component will actually learn your preferences and change settings to match. To illustrate, if you generally prefer things to be cooler in the evenings, the thermostat will take note and do it for you.
Built-in safety protection in case of fire
The automated aspect of your device also plays a role in your safety. The Vivint Smart Thermostat includes an emergency HVAC shutoff when fire is identified to limit the escalation of flames and smoke. You could also have it instantly turn on the exhaust fan to aid in venting your house.
Lower your energy expenses in Fargo
Your smart thermostat's ability to adjust temperature settings on its own and your ability to manipulate them from a distance isn't just convenient, it's good for your bank account. If you tweak temperatures up to 10 degrees for whenever you are away, you can save a good deal - up to 10% on energy costs.
Customize your own Fargo smart home
Now that you have a greater understanding of how smart thermostats work in Fargo, it's time to incorporate one into your home. The Vivint smart home specialists are here to help. Place a call to (701) 699-4489 or complete the following form to begin.
Areas Served Around Fargo By Smart Security Specialists Your Local Vivint Authorized Dealer